Welcome!
STUBBIES PROMOTIONS
understands how important it is to find a reliable marketing solutions company that will take the time to understand your needs and execute your promotional ideas. We will keep your company fresh in the minds of your clientele by managing all your marketing media from a grand opening promotional give-a-way to staff recognition. We can put your company logo on just about anything you can think of...and a few things you haven't!
• Established: 2000
• Incorporated: 2008
AFFILIATIONS
• Arcadia Association of REALTORS - Member since 2000
• Monrovia Chamber of Commerce - Member since 2007
• Arcadia Chamber of Commerce - Member since 2007
• Sponsor of Santa Anita Little League Since 2004
• Supporter of the Boys & Girls Club of The Foothills
KEY AREAS OF EXPERTISE
• Promotional Items
• Custom Apparel
• Specialty Advertising
• Corporate Recognition / Awards
• Printing
• Banners / Signage
• Graphic Design
• Embroidery
• Screen Printing
OFFICERS
Darren Stubbs - Owner, Sales Manager
Darren initially started the company with an interest in promotional items and the desire to become a successful entrepreneur. Originally coming from a strong real estate background Darren can fully relate to the importance of self promotion and what it takes to run a business on a day-to-day basis. Darren also oversees the company's sales force and personally meets with clients on an individually based level.
Lisa Williams Graphic Designer - graphics@stubbiespromos.com
Since completing studies in graphic design at Cal State Long Beach, Lisa has been a competitive designer for over 25 years, having specialized in corporate identity, packaging and product labeling, advertising and magazine publications. She came to join Stubbies Promotions in 2012 as our senior graphic designer, adding her talent, eye for detail and professionalism to our team.
Featured Item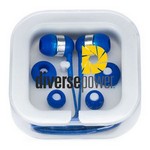 Earbud in Travel Case
In-ear headphone in a compact, protective travel case with white plastic base and clear plastic lid. The headphone comes with 48" long cord and includes 3 different sized interchangeable buds for the ...
$1.33 - $2.14